The History of Tibetan Bowl Sound Healing School
by Diáne Mandle
TBSHS was formed in 2008 by Diáne Mandle of Sound Energy Healing in association with Richard Rudis of Sacred Sound Workshops to address the blatant lack of standards generally found in the practice of this dynamic healing modality. TBSHS has been created to provide a criterion of excellence from which clients can measure practitioners skill and assure personal safety of clients.
About the Founder, Diáne Mandle
In 1998 Diáne was working as a Polarity therapist and a Life Coach. She wanted to expand her knowledge of energy work and began a course of study with Sacred Sound Workshops. After 2 years she became the first practitioner to be certified through Sacred Sound Workshops and relocated to California where she established a private practice integrating Polarity, Sound Healing and Coaching. She became Certified through the state of California to teach Tibetan bowl sound healing in schools but opted to continue her private practice which included workshops and began to offer educational concerts nationally. She is associated with the San Diego Cancer Center as one of its Integrative Therapy Team members and offers regular sessions there to cancer patients.
To date she has produced three CD's, the first multimedia course - "Ancient Sounds for a New Age: Introduction to Himalan Sacred Sound Instruments" ,appeared on numerous radio and television programs includine NPR, is featured in the film "Tao: Living in Balance and has published over 20 instructional books for Kindle and Nook.
Diáne has traveled to Nepal, India and Tibet to select high quality instruments and keep learning about the culture and modality. As sound healing has become more and more recognized as an effective healing modality there has been a development of many practitioners with little or no formal training in the use of the Himalayan Sacred Sound Instruments, and many practitioners using the instruments with little knowledge of the the influence of the culture from which they originated. Diáne formed TBSHA to help create and maintain a high standard of practice with the Sacred Sound Instruments. (More on Diáne at https://www.soundenergyhealing.com)

About Sacred Sound Workshops
The alliance of 'Sacred Sound Workshops' (SSW) was established in 1988 to advance the knowledge base of the Himalayan sacred sound instruments. It was formed and continues to function as a research association dedicated to the advancement of understanding the healing potential of these extraordinary tools.
The SSW educational component provides teachings on vibrational healing within the context of the Tibetan Buddhist Dharma. Instruction, (introduction and advanced), focuses on the proper use of the associated Himalayan instruments as they apply to the altering of meditative consciousness, mental/emotional transformation and stimulation of physical healing. Each workshop offers special attention to the instrument's cultural/historical foundations, traditional and contemporary therapeutic techniques.
The retail component of SSW has devoted itself to providing authenticated and ancient Himalayan Healing Bowls, of the highest quality, to the western world at the best prices.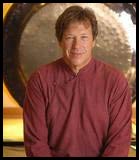 Richard Rudis, an American practitioner of Tibetan Buddhism for over 30 years, is a sound pioneer, educator and Dharma teacher. He created Sacred Sound Workshops in 1988 and continues to travel nationally offering Gong Baths and workshops on the Himalayan Sacred Sound Instruments. He has produced three CD's, Event Horizon, Terma Yana and Pilgrims Prayer , published numerous articles,been a guest on several radio programs and is featured in a film about Nepal, (Stupa). Rudis regularly speaks at Sound Healing conferences nationally. He leads annual pilgrimages to Tibet and Nepal and imports museum quality Buddhist artifacts (www.buddhistartifacts.com)
Mandle and Rudis have worked separately and together offering concerts, trainings and workshops on how to use the Sacred Sound instruments for Personal Development and Healing. They have traveled to Nepal, India and Tibet to locate and select high quality instruments and are committed to expanding the western knowledge base of the Buddhist culture and its associated sound healing modalities. This alliance was formed to establish and maintain high standard levels within the Sacred Sound healing practice.